View all posts
Time to Move or Time to Improve? Moving vs. Home Improvement
03/20/2023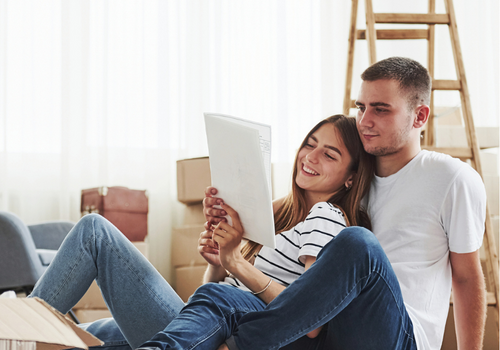 Q: Should I move to a new house, or stay put and make improvements to my current home?
A: Choosing to move to a new home or to make improvements to your current home is a big decision. Here, we've outlined the pros and cons of each choice so you can make the decision that is best for you.
Moving to a new home
For most people, a home is the largest purchase they'll make during their lifetime.
Pros of moving:
Opportunity for a fresh start. You can choose a new location that better suits your family's needs, such as a superior school district, proximity to family or work, or a more desirable community.
More living space. This is especially beneficial if you have a growing family.
Potential for appreciation. If you buy a home in an area that is experiencing growth, your property value may increase over time, bringing a return on your investment.
No dealing with renovations. If you purchase a home that's in move-in condition, you won't have to deal with the headache of renovations.
Cons of moving:
High upfront costs. You'll need to spring for closing costs, a down payment and the actual move.
Emotional attachment to your home. If you've been living in your home for many years and it holds lots of happy memories, you may not want to leave.
Potentially higher interest rate on your mortgage. If rates have increased since you financed your current home, you may end up with a higher interest rate on your new mortgage. And that means paying more in interest.
Improving your current home
Now, let's look at the option of improving your current home with a Home Equity Line of Credit (HELOC). A HELOC gives you quick access to cash by using your home as collateral. You can withdraw (aka, advance) the funds, as needed, over a period of time known as the draw period. When that ends, you can no longer advance funds and will have to repay the loan, with interest, over the repayment period.
You can also take out a Home Equity Loan (HEL), which will provide you with one lump sum that you start paying back immediately.
Pros of improving your home:
Completely customized to fit your needs. When you design your own home, you can customize it to perfectly suit your family's needs and tastes.
No stress of relocating. Continue to enjoy the same home and neighborhood you've lived in for years.
Increase the value of your home. Home improvement projects boost your home's value, increasing your net profit when you do decide to sell.
Save on moving costs. Why pay thousands of dollars in closing and moving costs when you can have a beautiful new living room for the same price?
Cons of improving your home:
Stress of renovations. When your house is a construction zone, there are lots of decisions, an endless mess and workers in your home at all hours.
Risk of foreclosure. Taking out a HELOC or HEL puts your home at risk of foreclosure if you are unable to make the payments.
Additional debt. A HELOC or HEL adds another debt to pay each month, which can be a burden on your budget.
Whether you choose to move to a new home or to renovate your current home, we can help! home loans, HELOCs and HELs offer competitive interest rates, easy eligibility terms and the personal service you've come to expect. Call, click or stop by today to learn more.