View all posts
Home Improvement Loan Options
04/12/2022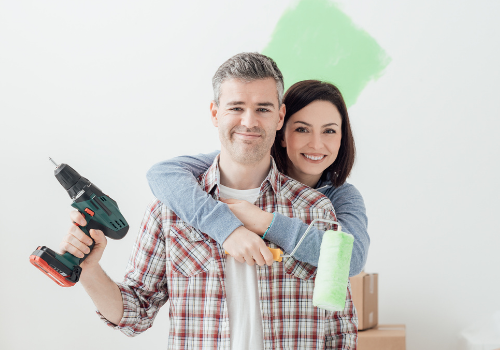 Determining the home improvement loan that is best for you.
Given that you most likely don't have the money to pay for your home renovations in cash, and you don't have a 0.00% APR credit card to foot the renovation costs, your best option is to fund your home improvement project using a loan from a lender like a community bank or credit union.
Most likely, you'll have two loan options:
Home equity loan

Home equity line of credit (HELOC)
Through USEFCU you have a third option - our Express Home Improvement Loan. More on that in a minute.
HELOCs and home equity loans are secured loans that use your house as collateral. Both loan options require you to tap into your home's equity — the difference between your home's market value and the balance you owe on your mortgage loan. Lenders calculate home equity loan amounts based on the percentage of equity you hold in your home. Typically, the maximum loan amount most lenders allow is equivalent to 80-90% of your home equity value.
That means you may not qualify for a HELOC or home equity loan if you don't have enough home equity, or you may not get the maximum loan amount you need. Moreover, HELOC and home equity loans can be riskier because the lender can repossess your house if you default on your loan payments.
On the other hand, a home improvement loan is an unsecured personal loan, meaning you don't need collateral or home equity to qualify for financing. Banks and credit unions calculate your interest rate based on your credit score, debt-to-income ratio, and credit history.
What is the Express Home Improvement Loan?
Our Express Home Improvement Loan (EHIL) is much like a personal home improvement loan however, we can have you funded in as little as 24 hours with no closing costs! The process is easy and can be completed in just a few minutes online, or in person with any of our loan officers.
The Express Home Improvement Loan carries a fixed rate of 6.99% with a max loan amount of $25,000.
When should you use the EHIL for home improvement?
Our Express Home Improvement Loan is best when:
You prefer to avoid high-interest credit card debt.

You don't have enough home equity to qualify for a home equity loan.

You have committed your home equity for other purposes, such as paying college expenses.

You need the home improvement funds urgently.
If you're unsure about your specific scenario or the timeline for you to obtain the loan, it's best to ask rather than guess. We can be your best resource to mow through the tall grass before you get too in the weeds.
Home improvement can elevate your home's value
The actual returns on your home improvement loan depend on the type of home renovations you're doing. Depending on customer preferences in your local house market, some renovations may command a higher value. For instance, if most house buyers in your area prefer homes with solar panels, a solar panel installation will be more valuable than a swimming pool installation.
However, the benefits of transforming your house into a home might make more sense to you, especially if you're not looking to sell your house soon. If you have a couple of home improvement projects on your to-do list, accomplishing the renovations will add sentimental value to your home. You'll make your house cozier and improve your overall quality of life, and since a personal loan will help you fund the home renovation projects that you love, it's worth every penny you pay in interest.
It's your home that matters most
Ultimately, the primary purpose of your home improvement loan is to help you renovate and remodel your home to suit your taste. As you seek home improvement loans, don't get caught up in the numbers and lose sight of your main goal: to upgrade your home exquisitely, and love where you live.