View all posts
Realtors: Quick home improvements for clients prior to selling
03/31/2021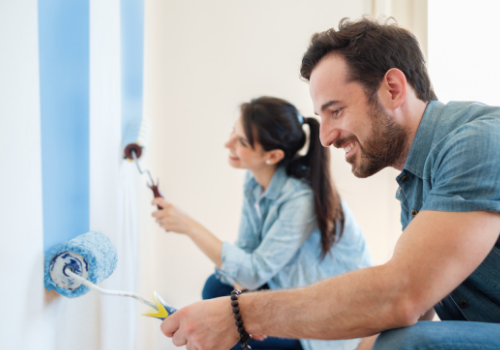 A few tips for getting a home ready for market
Minor changes can make a world of difference without breaking the bank or occupying too much valuable time. Be objective and prioritize needs based on what would provide the greatest return vs time/money spent.
Make a great first impression
Curb appeal is everything. Making a great first impression on a potential buyer makes them excited to go through that front door and see what else a house has to offer. A fresh coat of paint or stain on a front door, along with new hardware, can go along way. Plant colorful flowers in beds or planters to brighten up the exterior and to make the home stand out from its neighbors. Cleaning the windows and giving brick or siding a good wash definitely doesn't hurt.
Spark their imagination
Potential buyers have to be able to see themselves within the space. The seller may be proud of their purple walls, most people are not going to be as appreciative. Neutral wall colors allow buyers to see the house without being distracted by bright or non-traditional pallets. De-clutter rooms by removing personal items or unnecessary furniture. A room with too much furniture can make it difficult for a potential buyer to see where their belongings could fit.
Light up their life
Whether natural or artificial, great lighting is important. Clean the interior side of windows and open blinds and curtains to allow for as much natural light to saturate the inside of a house as possible. Where natural light is not an option, replace any outdated light fixtures or replace standard bulbs with LED for a brighter, and more natural, appearance.
Invest in the kitchen
Even if a potential buyer can't boil water, the kitchen is still going to be a very important space. Generally, the kitchen is one of the most visible and therefore, most important rooms in the house. It is also one of the spaces everyone wants to see and can really improve a property's value. A fresh coat of paint, or a good cleaning of warm water and a mild detergent, can work wonders. Replace cabinet knobs and pulls if need be to complete the updated look. Another consideration is updating the faucets if necessary.
Bathrooms – the second most important room
With the kitchen arguably being the most important room in the house, the bathroom is very likely the second most important. A fresh coat of paint, as well as new fixtures and faucets, are projects to consider. No one wants to see a mildewy tub, so some deep cleaning may be needed as well. A clean white shower curtain and even an updated toilet can really breathe new life into a bathroom – especially if it's on the small side.
Providing a little bit of guidance to a potentially overwhelmed client can be a huge step in the right direction.
Want to read more? Check out our other home-related posts:
Things to know before refinancing your home