View all posts
5 Tips For Shopping Online Safely This Holiday Season
12/04/2020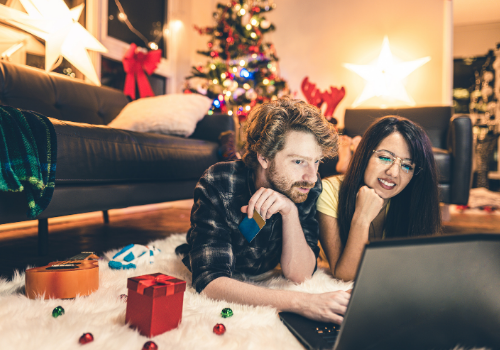 Consider this for a second: In 2019, the FBI's Internet Crime Complaint Center received 467,361 online-theft complaints — a whopping 115,424 more complaints since 2018! Victims reported losses totaling $3.5 billion (which will surely put a dent in your holiday shopping budget).
Thankfully, there are ways you can be certain your online purchases are protected, which is especially important during this holiday season, as online shopping has grown 25% — and continues to grow. According to one survey, given the pandemic and ease-of-use, nearly two-thirds of shoppers surveyed said they plan to do all of their holiday shopping online.
5 Safe Shopping Tips For eCommerce Purchases
Before you hit checkout, be sure you're familiar with the retailer.
This is easy enough if you're buying something from a big, familiar brand like Amazon or Zappos. However, if you're interested in a product from an online retailer you just stumbled across for the first time, take a few extra minutes to see what comes up for them on Google and Yelp. Pro tip: run a search of the company's address in Google Maps. If there's a business listing, or the street view is of an actual building with an actual sign, then chances are you are in the clear.
Check that the website is secure and encrypted.
When you get to the point in the online checkout process where it's time to hand over any personal financial information, you should be able to spot a couple of things on the site that will show you it's secure:
The web address (URL) will now begin with https, instead of http.
If you look in the browser window up next to where the URL is written, you can see the image of a lock next to it, like this: [image of https with lock]
These are the signs that the website you're on has taken steps to ensure all financial information provided is encrypted for your security.
Don't shop on public WiFi hotspots.
The increasing availability of free WiFi at a wide range of locations like coffee shops, airports, and hospitals is designed to make our lives easier. The downside is, it also makes it easier for hackers to monitor and steal private information from users when you're on a public network. If they do nab your data, they could sell it on the dark web or use it to make holiday purchases of their own.
You can decrease the risks of using your debit or credit card online considerably by sticking to making your purchases from home, using your own secure internet network or a secure virtual private network, also known as a VPN.
Never provide your debit or credit card information in an email.
Every legitimate business selling products or services online uses a secure online shopping process to do so. This secure process never involves soliciting your credit card information in an email. All online purchases should be made through a secure online form.
No company worth doing business with will ever request your credit card in an email, but scammers do. Oftentimes, they do so by posing as more legitimate and familiar sources like the IRS, Apple, or PayPal. Even when an email looks like it comes from a source you trust, check the email address it comes from and avoid clicking directly on any links provided in the email. By doing a search on the link included in the email, you can both check its legitimacy and see if there might be any discounts available for the offer if it is legitimate.
Here's an example of a phishing email often received. Note how the email address is "support.com" not "apple.com."
Keep a close eye on your account.
Aiming for prevention is always best, but when that doesn't work, catching the issue fast makes solving the problem easier. In the event of unauthorized transactions or discrepancies in your account, careful monitoring of your account will help if you need to flag suspicious activity to your bank or credit union.
We know that life gets busy, and you might not have time to cross-check your account activity on a regular basis. Getting an extra set of eyes on what's important — like your credit report, for example — can give you the peace of mind that you're always protected and will be immediately notified if someone committed a fraudulent act using your information. By enrolling in an identity protection plan you can rest assured all your info is safe. (And if it's not where it should be, you're backed by an expert team to guide you every step of the way.)
Holiday Scams On The Naughty List
While most people think of this time of year as prime time to shop for friends and family (and maybe yourself, too!), fraudsters, hackers, scammers, and identity thieves see the festive season as a prime opportunity to trick people into revealing personal information.
Here are three common holiday scams to keep an eye out for.
Holiday eCards: Fake notifications for eCards are a common and often successful means by which scammers trick you into letting down your defenses. The general rule of thumb for ensuring the safety of a holiday eCard is if you don't know the sender, then stay away. Keep an eye out for spelling mistakes, and if the email includes an attachment do not, we repeat, do not, download it. Any reputable eCard company will never send an attachment for you to download.

Temporary holiday jobs: 'Tis the season to make an extra buck, right? While there are many opportunities for temporary employment during the holiday rush (think: Retail Sales Associate, Snow Removal Driver, or Seasonal Actors), not all offers of employment are legitimate. Criminals are promoting their illegal acts largely through the internet by offering jobs that don't exist — or offering ways to make extra money that are actually part of a criminal enterprise. If you're on the hunt for a seasonal side gig, never provide your social security number, birth date, driver's license number, or bank account information for direct deposit setup until you've verified a position's legitimacy.

Fake charities: It's the season of giving, which for many means donating time or money to their charity of choice. A great place to connect with local charities is on social media platforms like Facebook and Twitter, but just be sure that the profile you're interacting with is the real deal. It's not uncommon for scammers to spoof charity profiles. If you decide to move forward with a donation, go to that charity's website to do so.
The big takeaway? Online shopping this holiday season isn't something to be scared of. But it's critical to remain vigilant. And remember — if something seems too good to be true, it probably is.
c/o Kasasa